The omni-present rickshaw
I was recently thinking of writing up something on the rickshaw experience i've had lately but then i came across this n decided to cross post on it. Mr. Owais Mughal wrote this amazing guest post on the All Things Pakistan blog run by Adil Najam. The story was so good that i think it deserves a mention here on KMB. A must read for all karachities (ex and current).. its at the same time an introduction to the rickshaw itself, as well as to its technical aspects and the unique culture which has risen up around it. Written with a bit of humour dosed in, the whole article is a delight to read. I'll excerpt some here.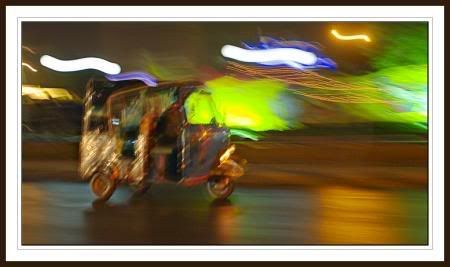 A rickshaw is a perfect example of a compact automobile design. The driver practically sits on a bench seat which is strategically placed on top of the engine. This causes inductive heat transfer between man and machine and keeps the engine cool. The same however, cannot be said for the driver's butt. The presence of a hot engine underneath, keeps a driver cozy during winters and boiling during summers. It is literally one heck of a hot seat to sit on.
Other posts on rickshaws on karachi metblogs can be found here.