Wake up and Smell the Rubble…
Photography Credit: Jawad Ahmed
This entry could be about any of our localities, where we spend our days and nights. The same path we trudge regularly to get home after long hours in school/university/office.
In Karachi especially, when we build/buy our houses, there's always that personal touch, some extravagance on our part done to be different from the rest of the houses around the area. It is when we like to extend our lawns a bit more by encroaching outwards; make stretched parking slopes taking main footpath's space. In such fervor some forget that they are building on the land which is not really theirs.
Then KDA comes in and during their drive of amnesiac building/re-building of roads and you see nothing but rubble when you wake up one fine morning. I found a live example in North Karachi, Sector 8 to 10. I investigated to discover that the concerned authority had issued prior warnings and were instructed to shift their electric & gas meters but nobody paid heed to the notice and on 31st May at 6 o'clock sharp, bulldozers came and did what they are made for.

People look on as the bulldozers work

Locality people gauging and doing damage control
Sector 10 was the most severely damaged with gates totally torn down; exposing most of the houses to every outside element you can think of.
Irony of the situation is that the houses on the opposite lane (Baradari side) were notified as well. Except for a few, who tore down their encroaching parking lots, grills and shops; many simply waited with bated breath without learning anything from the damage caused.

Lone ranger, getting rid of the extra rubble after demolishing the illegal shop space. One of the few who did their own demolishing before the bulldozers came.
On 2nd June, all of it happened again, wrecking havoc: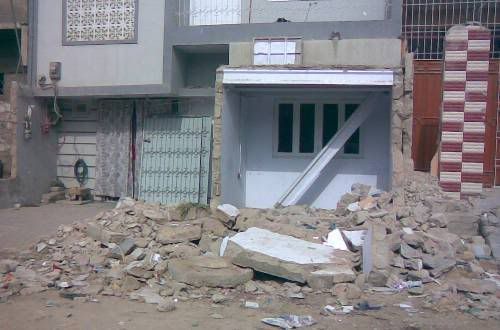 What do you think, who is at fault here? People who are encroaching over civil land or the officials who avert their eyes when such building were being constructed for the extra 'chai-pani'?