Slumdog Millionaire in Karachi?
Spoiler Alert: For those who still haven't seen the movie, the post may reveal some of the plot. Read at your own risk!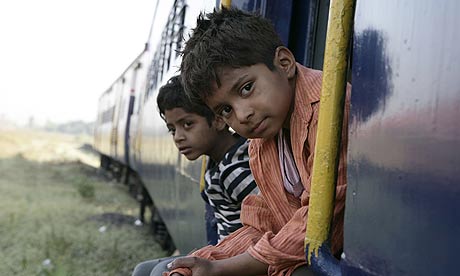 A movie has multi-fold purposes. Some movies entertain, andsome movies educate. Still others make you think. Slumdog Millionaire, a movie shot in the slums of Mumbai, did a little of all of that. As the movie unreeled, telling the story of a street urchin who goes on to become a millionaire, I could't help but place the boy in Karachi and wonder if his destiny would have been written any differently.
Finding parallels was easy. The begging bowl that replaces a boy's eyes can be seen on every street corner. Little boys selling toys take the form of glass-cleaners in Karachi. The criminals-cum-godfathers, too are found here in abundance. The inescapable destiny of a gamine to become a prostitute has countless local examples too.  The unashamed indifference displayed by the police during the riots is not uncommon in Karachi either.
But there was one stark difference. The probability of a slumdog in Karachi rising to become a millionaire would be lower in Karachi because slums in Karachi don't have schools that impart the quality of education that aquaint a child with the likes of Alexander Dumas. However, I also doubt if slum schools in India include 'The Three Musketeers' in their school curriculum.
As the movie is primarily made for foreign audiences, that little detail doesn't matter. What matters is the bitter truth about the sorry state of affairs in the slums of Mumbai (that could easily be replaced by slums in Karachi) that the movie lade bare.
Watch the movie. By the end of it, you may think that it didn't deserve the Golden Globe, but you will look at street kids around you differently.