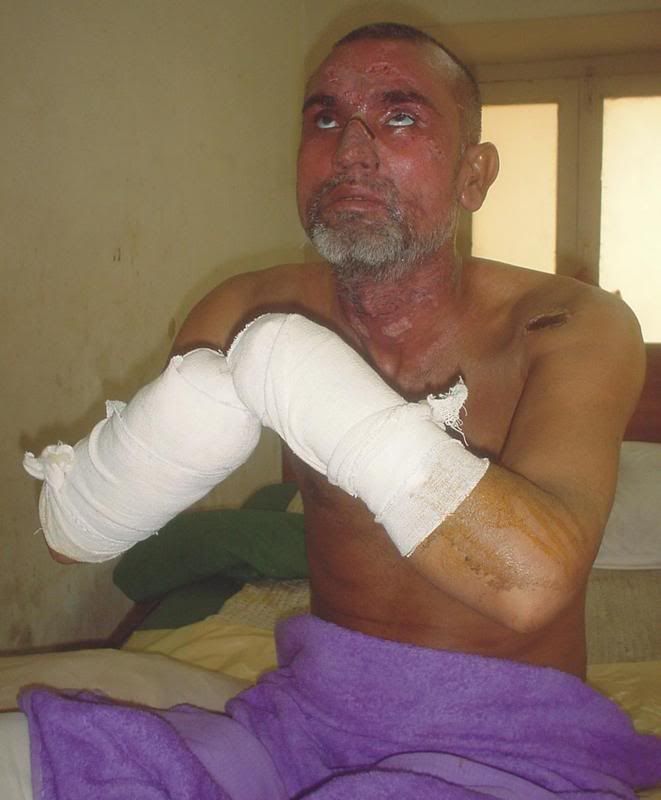 On March 24th as Ali Hassan Solangi left the mosque in Hyderabad, he was kidnapped at Gunpoint by 4 men and taken to the Shah Bukhari Shrine. When he reached there his hands were chopped off at the wrists by his kidnappers, he was shot in both legs and acid was thrown in his face. His kidnappers then left him there to die.He was rescued by people who heard him screaming in intolerable pain at the shrine and is now in Room #8, Burns Ward LUMHS Hyderabad City as of April 08 2008.
His only crime was what we keep screaming for our police to do, uphold the law!
The story behind this gruesome torture as told by the victim is: "I (Ali Hassan) was on duty during the Local Body Elections on August 25, 2005, at the Polling Station Govt Boys High School Khabar Khero, UC #4 Qasim Abad. Noor Muhammad Shoro, who was contesting for the seat of the Taluka Nazim and Deedar Shoro, the candidate for UC Nazim came to the polling station. They started casting bogus votes. When the Presiding Officer, Professor Naila Jarwar tried to stop them, they physically attacked her and tore her cloths. It was unbearable for me so I interrupted them and pushed them out of the polling station as it was my duty to safeguard the polling staff. Meanwhile, I also called up the Rangers for help. When the Rangers arrived, they arrested the two men. While they were being arrested, both Noor Muhammad Shoro and Deedar Shoro extended threats to me. I think chopping my hands is a punishment for my loyalty to my duty. I am proud of my hands which
were raised against injustice and I am optimistic that one day I will get justice."
I condemn this action against a brave police officer with the utmost disgust!!! I plea to our authorities to do something for the plight of Ali Hassan Solangi or else those who think for even a second of courage in our police force will never dare to exercise it ever again.
Story source : A Reluctant Mind