Posts Tagged 'life'
This was a MOST fun sight I came across whilst driving through the Punjab colony area, from Clifton, onwards to Defence… A line of cows calmly crossing the street. Me, armed with my camera, of course did what was so natural – stop and click the scene!
Here's something that never ceases to amaze me. The time it takes a cow, for example, to cross the road, would be enough to get cars and cars full of busy people going about their busy lives,  to honk like crazy. Few people would take the opportunity to switch off their cars and just let the 'dairy on feet' pass by. All this riff raff,
running around seems a bit… inhuman.. unnatural.
I know I'm sound like quite the oldie here, but it helps to take a minute away from the fast paced life and well… watch the cows go home, every once in a while. And if we let them cows cross the road peacefully, then perhaps one day we will quite rightfully be able to look at a sight like this and say, "Hey Buddy! Mooooo Over, will ya?!"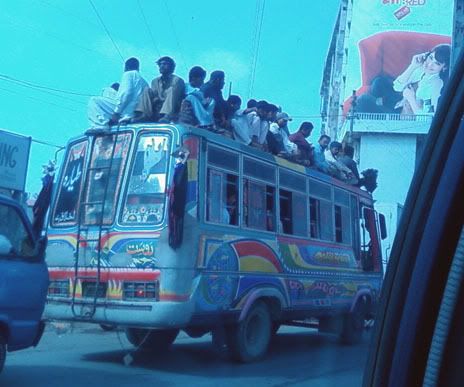 Only in Karachi, you can see the most trained commuters. They can run like the wind, jump better than a monkey and can give flash (comic character) a run for his money. Always the optimistic, they are not disheartened if they don't get space inside the bus/coach. They would happily climb and settle themselves over the roof, hang on railing and bake in the sun for good measure.
I salute these feats from the bottom of my heart! Way to go Karachiites!